SW SUREWEIGH SERIES

FLOOR SCALE
"The economic low profile floor scale - Built tough for tough work"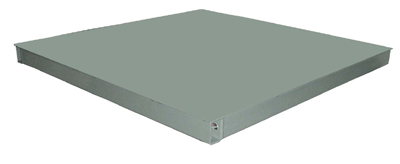 FEATURES:
Fully portable

Canadian Weights and Measures approved

Rugged steel modified tube construction

Nickel chrome plated tool steel load cells

NEMA 4 ABS sealed junction box

Top mount summing card access

Powder coated finish on 4'x4' and 5'x5' models

Anti-vibration feet

300% safe overload - 100% end loading

Suitable for use with a wide range of weight indicators and counting scales
VARIETY OF PLATFORM SIZES AND CAPACITIES
The Sureweigh series floor scale comes in a variety of sizes starting from 3 feet by 3 feet to 8 feet by 8 feet with capacities up to 20,000 lbs. Custom sizes are available upon request.
SELF CONTAINED PLATFORM DESIGN
The Sureweigh series floor scales are self contained, fully electronic platforms for use in industrial environments. Fabricated channels provide strength and durability to the platforms as well as protection against load cell damage.
TOTAL PORTABILITY
The Sureweigh series floor scale design allows for a forklift truck to easily pick it up and move around your plant.
OPTIONS FOR THE SW SERIES FLOOR SCALE
The Sureweigh series floor scale can be customized to suit any application
Stainless steel construction
Hermetically sealed stainless steel load cells
Ramps in a variety of sizes
Please click to view SW Series literature
For more information and pricing please email us at: weigh@matrixscale.com
" We don't just sell scales, we solve problems"