MATRIX LIQUID DISPENSING SYSTEM FOR HAZARDOUS AND NON-HAZARDOUS LIQUIDS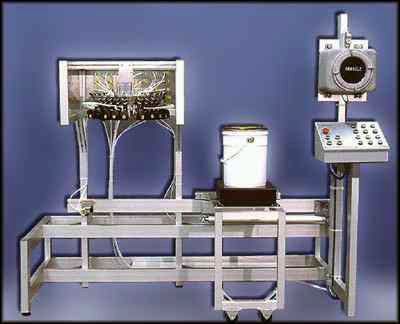 Choose an image to begin
FEATURES:
Standard configuration of up to 50 materials
Manual, semi-automatic, or fully automatic dispensing of liquid products
For use in regular industrial environments or hazardous industrial environments
STANDARD OPERATION:
The operator is required to place an empty container on the weighing platform. The operator then keys in the product to be placed in the container according to weight and sequence.
The control system proceeds to fulfill the requirement while constantly ensuring the weight achieved is within acceptable tolerances.
OPTIONAL UPGRADES:
Formula storage and retrieval
Inventory maintenance
Product recirculation and/or agitation
Bar code input scanners
Thermal and/or thermal transfer bar code lable printers
Custom scale, capacities and machine stands
For more information and pricing please email us at: weigh@matrixscale.com
" We don't just sell scales, we solve problems"